Larroche Christian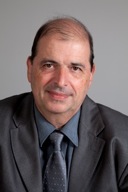 | | |
| --- | --- |
| Fonction : | Enseignant chercheur (Permanent Ip) |
| Axe : | Gepeb |
| Thème : | Gepeb |
| Téléphone : | +33473407501 |
| Fax : | +33 4 7340 7829 |
| e-mail : | Cette adresse e-mail est protégée contre les robots spammeurs. Vous devez activer le JavaScript pour la visualiser. |
---
Publications associées :
108 publication trouvées
2017
ACTI
Mixing and liquid-to-gas mass transfer under digester operating conditions

2016
ACL
Multiscale mixing analysis and modeling of biohydrogen production by dark fermentation

Validation of a predictive model for fed-batch and continuous lipoids production processes from acetic acid using the oleaginous yeast Cryptococcus curvatus.

DO
Bioethanol wastes: Economic valorization. In: Green Fuel Technology

Current developments in biotechnology and bioengineering, Book 6: Bioprocesses, bioreactors and biocontrols.

2015
ACL
Current perspectives in enzymatic saccharification of lignocellulosic biomass

Development of a submerged anaerobic membrane bioreactor for concurrent extraction of volatile fatty acids and biohydrogen production

Improvement and modelling of culture parameters to enhance biomass and lipid production by the oleaginous yeast Cryptococcus curvatus grown on acetate

Microbial lipids as potential source to food supplements.

Modeling of hydrodynamics and mixing in a submerged membrane bioreactor

OS
9

DO
Industrial Biorefineries & White Biotechnology

ACTI
Analysis of the Influence of Abiotic Parameters of a Submerged Membrane Bioreactor for BioH2 Production Using a Coupled Experimental and Numerical Methodology

Computational and experimental analysis of biohydrogen of hydrodynamics and mixing in an anaerobic membrane bioreactor for BioH2 production

INV
Immersed membrane bioreactors: state of the art and perspectives

THE
Peptide enriched functional food adjunct from soy whey (thèse Anshu SINGH)

2014
ACL
Economic process to produce biohydrogen and volatile fatty acids by a mixed culture using vinasse from sugarcane ethanol industry as nutrient source.

Favouring butyrate production for the new generation bio-fuel using gamma-alumina in acidogenic type fermentation of glucose.

DO
Advances in Industrial Biotechnology

Pretreatment of Biomass

ACTI
CFD Optimization of a Submerged Membrane Reactor for Biohydrogen Production

Hydrodynamic modeling of a submerged membrane reactor for biohydrogen production

COM
Optimization of a Submerged Membrane Reactor for Biohydrogen Production

Valorization of volatile fatty acids to microbial lipids by oleaginous yeasts for biodiesel production

AFF
An example of biorefinery concept for feedstack degradation and bioenergy production

Biohydrogen production using anaerobic membrane reactor

Hydrodynamic modelling effects on mixing in submerged membrane reactor

THE
Hydroxylation microbienne du methane au sein d'une nouvelle configuration de bioréacteurs à membranes (thèse Nakry PEN)

Investigations on fermentative productionand purification of pectinases (thesis of Shruti SINGH)

2013
ACL
Biological upgrading of volatile fatty acids, key intermediates for the valorization of biowaste through dark anaerobic fermentation.

Cellulase activity mapping of Trichoderma reesei cultivated in sugar mixtures under fed-batch conditions

Comprehensive Study and Modeling of Acetic Acid Effect on Trichoderma reesei Growth

Current developments in solid- state fermentation.

Olive mille wastes: biochemical characterizations and valorization strategies

Role and significance of beta-glucosidases in the hydrolysis of cellulose for bioethanol production.

DO
Biohydrogen

Fermentation Processes Engineering in the Food Industry

ACTN
Couplage d'un procédé membranaire à extraction liquide-liquide avec un réacteur de production de molécules hydrophobes par voie biotechnologique

INV
Valorization of biomass from two biorefinery platform chemicals, sugars and volatile fatty acids

BRE
Processo para produção de hidrogênio e ácidos graxos voláteis. Brevet Brésilien

THE
PhD thesis of Sunil KUMAR

HDR
Ecologie microbienne des viandes et produits carnés (HDR Souad CHRISTIAENS)

2012
ACL
A new stoichiometric miniaturization strategy for screening of industrial microbial strains: application to cellulase hyper-producing Trichoderma reesei strains

Bioconversion of volatile fatty acids into microbial lipids by the oleaginous yeast Yarrowia lipolytica

Fed-batch Anaerobic Valorization of Slaughterhouse By-products with Mesophilic Microbial Consortia Without Methane Production

Immersed membrane bioreactors: An overview with special emphasis on anaerobic bioprocesses

Production of Oils from Acetic Acid by the Oleaginous Yeast Cryptococcus curvatus

Recent developments in microbial oils production: a possible alternative to vegetable oils for biodiesel without competition with human food?

Simple Kinetic Model of Cellulase Production by Trichoderma Reesei for Productivity or Yield Maximization

ACTI
Humid air condensation process on a horizontal solid substrate devoted to aerobic bioprocesses.

Simple kinetic model of cellulase production by Trichoderma reesei for productivity or yield maximization

INV
Humid air condensation process on a horizontal solid substrate devoted to aerobic bioprocesses.

Volatile fatty acids as key intermediate for the valorization of biomass through dark anaerobic fermentation processes

Volatile fatty acids as platform chemicals for the valorization of biomass through anaerobic processes

COM
Simple kinetic model of cellulase production by Trichoderma reesei for productivity or yield maximization

AFF
Direct valorization of volatile fatty acids present in broths resulting from anaerobic fermentation of meat by-products

AP
Compte-rendu final du projet ANR-08-BIOE-013

THE
Application du concept de bioraffinerie à la valorisation de la microalgue Porphyridium cruentum (thèse Sébastien JUBEAU)

Development of hybrid yeast strains for the production of bioethanol from lignocellulosic biomass (PhD thesis of Rajni KUMARI)

Etude d'un écosystème bactérien synthétique anaérobie producteur d'hydrogène : impact des interactions bactérie-bactérie sur le métabolisme (thèse Saida BENOMAR)

Impact des facteurs biotiques sur le réseau métabolique des écosystèmes producteurs d'hydrogène par voie fermentaire en culture mixte (thèse Yan RAFRAFI)

Modélisation de la croissance des plantes supérieures pour les systèmes de support-vie: conception d'un modèle global et simulation des transferts de masse et d'énergie à l'échelle de la plante (thèse Pauline HEZARD)

Production of isopropanol, butanol and ethanol by metabolic engineered Clostridia (thesis Florent COLLAS)

2011
ACL
Screening of microalgae with potential for biodiesel production and nutrient removal from treated domestic sewage.

DO
Advances in Bioprocesses in Food Industries

Biofuels – Alternative feedstocks and conversion processes

ACLN
Production de biohydrogène : voie fermentaire sombre.

INV
Valorization of food and agro-industrial wastes by microbial processes

COM
Production de biodiesel à partir d'acides gras volatils par des souches de levures oléagineuses

AFF
Fed-batch anaerobic valorization of slaughterhouse by-products with mesophilic microbial consortia without methane production

Production of oils from acetic acid by the oleaginous yeast Cryptococcus curvatus

Valorization of olive mill by-products through biological hydrogen and volatile fatty acids production

THE
La biologie systémique et intégrative pour l'amélioration de l'accumulation et de la sélectivité des acides gras accumulés dans les espèces levuriennes (thèse Bérangère PORTELLI)

Production of alkaline phosphatase by extractive fermentation (PhD thesis of Sanjeev Kumar PANDEY)

Studies on the thermostable amylase from soil bacteria (PhD thesis Saptadip SAMANTA)

HDR
Modélisation des réacteurs microbiens (HDR, Cédric BRANDAM)

2010
ACL
A bioprocess for the production of high concentrations of R-(+)-alpha-terpineol from R-(+)-limonene.

Advancement and comparative profiles in the production technologies using solid-state and submerged fermentation for microbial cellulases.

Biodegradation of toluene at high initial concentration in an organic-aqueous phase bioprocess with nitrate respiration

Potential carbon dioxide fixation by industrially important microalgae.

OS
Microbial lipids

Production of food additives by fermentation

DO
Comprehensive Food Fermentation and Biotechnology

Comprehensive Food Fermentation and Biotechnology

Current Topics on Bioprocesses in Food Industry

Food Technology and Biotechnology, numéro spécial "Probiotics, prebiotics and synbiotics"

INV
Valorization of food and agro-industrial wastes by microbial processes

COM
Valorization of volatile fatty acids through production of single cell oil using oleaginous yeast strains

THE
Bioremediation technology for selected metallic pollutant of Golden Corridor, Gujarat (PhD thesis Shukla Viral YOGESHKUMAR)

HDR
Procédés enzymatiques et microbiens pour la valorisation des produits et sous-produits agricoles (HDR, Jesus Gerardo SAUCEDO-CASTANEDA)

Rôle de la membrane plasmique dans la survie des microorganismes à la déshydratation: contribution à l'optimisation de procédés de conservation des cellules biologiques (HDR, Laurent BENEY)

2009
ACL
Exploration of alpha-pinene degradation pathway of Pseudomonas rhodesiae CIP 107491. Application to novalic acid production in a bioreactor.

2008
Characterization of monoterpene degradation pathways in two pseudomonads.

Exploration of fungal spores as a possible storehouse of proteolytic biocatalysts

Fed-batch Production of Gluconic Acid by Terpene-treated Aspergillus niger Spores.

Permeabilization and inhibition of the germination of spores of Aspergillus niger for gluconic acid production from glucose

Production of trans-2-methyl-5-isopropylhexa-2,5-dienoic acid by Pseudomonas rhodesiae CIP 107491

Protective effect of biomass components against interfacial inactivation of alpha-pinene oxide lyase from Pseudomonas rhodesiae CIP 107491.

Stability of glucose oxidase activity of A. niger spores produced by solid-state fermentation and its role as biocatalyst in bioconversion reaction

OS
pp.293-305

2007
ACL
Spores of A. niger as reservoir of glucose oxydase synthesized during solid-state fermentation and their use as catalyst in gluconic acid production

OS
Microbial Processes

2006
ACL
Gluconic acid: Properties, application and microbial production

OS
Chapitre 8

2005
Biotransformation with crude enzymes and whole cells

2003
ACL
Optimisation of isonovalal production from alpha-pinene oxide using permeabilized cells of Pseudomonas rhodesiae CIP107491

Selection of mould strains from the surface flora of French saucissons and study of their biocatalytic behaviour

2002
Pseudomonas rhodesiae PF1: a new and efficient biocatalyst for production of isonovalal from alpha-pinene oxide

<-- retour à l'annuaire