Chanal Hélène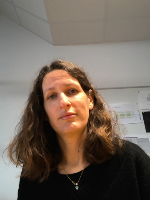 | | |
| --- | --- |
| Fonction : | Permanent (UCA) |
| Lieu d'exercice : | SIGMA |
| Equipe : | MRSI (M3G) |
| Section CNU : | 60 |
| Téléphone : | +33473288075 |
| e-mail : | Cette adresse e-mail est protégée contre les robots spammeurs. Vous devez activer le JavaScript pour la visualiser. |
---
Publications associées :
45 publications trouvées
2023
ACL
Geometric modeling with small defects of over-constrained Parallel Kinematic Machine
Mechanism and Machine Theory, vol. 179, p. 105120
2023 jan



Introducing Virtual DIC to Remove Interpolation Bias and Process Optimal Patterns
Experimental Mechanics, vol. 1, p. 1--17
2023 feb 14



2022
Applying the Virtual Fields Method to measure during milling the through-thickness residual stress distribution in aluminum-alloy sheet material
Experimental Mechanics, vol. 1, p. 1--15
2022 oct 08



Design and implementation of a cable-driven parallel robot for additive manufacturing applications
Mechatronics, vol. 86, p. 102874
2022 oct



Direct Residual Stress Identification during Machining
Journal of Manufacturing Processes, vol. 82, p. 678--688
2022 oct



Elasto-Dynamic Modeling of an Over-Constrained Parallel Kinematic Machine Using a Beam Model
Machines, vol. 10, p. 200
2022 mar 10



In-situ measurement of machining part deflection with Digital Image Correlation
Measurement, vol. 187, p. 110301
2022


Studying the influence of the machining process on the geometrical defects of the standardized s-shape test part
precision engineering, vol. 75, p. 193--209
2022 may



ACTI
Residual Stress Maps Determination with global Digital Image Correlation
6th CIRP Conference on Surface Integrity
2022 jun 08



ACTN
Analyse de l'influence des défauts géométriques d'une machine-outil 5 axes sur le défaut géométrique de la pièce de réception en forme de S
Conference Manufacturing21
2022 oct 13

2021
ACL
A model-based control law for vibration reduction of serial robots with flexible joints
Mechanics & Industry, vol. 22, p. 38
2021


Cable behavior influence on Cable-Driven Parallel Robots vibrations: experimental characterization and simulation
Journal of Mechanisms and Robotics, vol. 13, p. 1--17
2021 27



Geometrical defect identification of a SCARA robot from a vector modeling of kinematic joints invariants
Mechanism and Machine Theory, vol. 162, p. 1--16
2021



Study of geometrical defects of free-form surface machined using neural network
Advances in Mechanical Engineering, vol. 13, p. 1
2021 nov.



ACTN
Co-manipulation robotique transparente pour l'assistance à l'examen échographique
17ème colloque national S-mart AIP-PRIMECA
2021 mar. 31


COM
Co-manipulation robotique transparente pour l'assistance a l'examen echographique
17eme colloque national s-mart aip-primeca
2021 mar


2020
ACL
Machine tool architecture selection at the preliminary design stage: application to hard material machining
Journal of Computational Design and Engineering, vol. 49, p. 1--11
2020


Multicriteria decision optimization for the design and manufacture of structural aircraft parts
International Journal for Interactive Design and Manufacturing (IJIDeM), vol. 14, p. 1015--1030
2020

ACTI
Integrated DIC dedicated to residual stress identification in a beam subjected to milling
Photomechanics IDICS Conference
2020 oct 19


Stiffness optimization of a cable driven parallel robot for additive manufacturing
2020 IEEE International Conference on Robotics and Automation (ICRA)
2020 may 31



2018
ACL
A generic method for servo tuning based on dynamic modeling and task description
ISA transactions, vol. 80, p. 542--553
2018


Adaptation of the geometric model of a 6 dof serial robot to the task space
mechanisms and machine science, vol. 50, p. 569--576
2018


Advanced DIC for accurate part deflection measurement in a machining environment
Journal of Manufacturing Processes, vol. 33, p. 10--23
2018


Application of hybrid force/position control on parallel machine for mechanical test
Mechatronics, vol. 49, p. 168--176
2018


DFM method for aircraft structural parts using the AHP method
Journal of Advanced Manufacturing Technology, vol. 95, p. 397--408
2018


Model based method for PID tuning applied to serial machine-tool
International Journal of Advanced Manufacturing Technology, vol. 95, p. 735--745
2018

Model-based method for feed drive tuning applied to serial machine tool
international journal of advanced manufacturing technology, vol. 95, p. 735--745
2018



ACTI
A new approach for machine-tool architecture selection at preliminary design stage
JCM 2018
2018

Dedicated Global DIC to study the global behavior of a workpiece during its milling
Photomechanics
2018

ACTN
Identification expérimentale des paramètres géométriques et dynamiques d'un robot plan
MUGV & Manufacturing 21
2018

Mesure par DIC de la déformation des pièces durant leur usinage
MUGV & Manufacturing 21
2018

2017
ACL
Study of surface finish of fiber-reinforced composite molds
proceedings of the institution of mechanical engineers, part b: journal of engineering manufacture, vol. 231, p. 576--587
2017


ACTI
Adaptation of the geometric model of a 6 dof serial robot to the task space, computational kinematics
7th iftomm international workshop on computational kinematics
2017 may


Dic in machining environment, constraints and benefits
conference proceedings of the society for experimental mechanics series
2017


Robust characterization of the workpiece distortion during its milling thanks to Global DIC
annual conference of the international digital image correlation society
2017 nov 06


ACTN
Méthodologie de choix d'une architecture de machine-outil 5 axes pour l'usinage du titane
23ème Congrès Français de Mécanique
2017 aug 28


Provet 4.0 : projet erasmus+ pour la creation de support de cours sur l'industrie du futur
15e colloque national aip-primeca
2017 apr


2013
ACL
Process parameter definition with respect to the behaviour of complex kinematic machine tools
international journal of advanced manufacturing technology, vol. 69, p. 1233--1248
2013


2012
Process definition of preformed part machining for taking benefit of parallel kinematic machine tool kinematic performances
international journal of advanced manufacturing technology, vol. 58, p. 869--883
2012


Sensitivity analysis of an overconstrained parallel structure machine tool, the tripteor x7
applied mechanics and materials, vol. 162, p. 394--402
2012


2011
A study of the performances of parallel and serial 5 axis machine-tools for aeronautics part machining [itude des performances de machines-outils 5 axes a structure parallele et serielle pour l'usinage d'une piece aeronautique]
mecanique et industries, vol. 12, p. 479--486
2011


Tool path smoothing of a redundant machine: application to automated fiber placement
cad computer aided design, vol. 43, p. 122--132
2011


2007
HSM Pocketing tool path evaluation proposition of performance criteria
International Journal of Machining and Machinability of Materials, vol. 2, p. 206--221
2007


2006
HSM adapted tool path calculation, for pocketing
Machining Science and Technology, vol. 10, p. 181--196
2006


THE
Study of the parallel kinematics machine tool use in machining
Université Blaise Pascal - Clermont-Ferrand II
2006 sep 22


<== retour à l'annuaire