Devise Olivier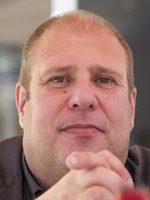 | | |
| --- | --- |
| Fonction : | Permanent (UCA) |
| Location : | SIGMA |
| Team : | MRSI (M3G) |
| NUC section : | 61 |
| Phone : | +33473288101 |
| e-mail : | This email address is being protected from spambots. You need JavaScript enabled to view it. |
---
Associated publications :
4 publications found
2022
ACL
Definition of a Model-Based Engineering Framework for the Design, Organization, and Management of Local Agri-Food Systems
Open Journal of Business and Management, vol. 10, p. 914
2022


2021
ACLN
Définition d'un cadre d'ingénierie à base de modèles pour la conception et le pilotage des systèmes agro- alimentaires de proximité
ISTE OpenScience, vol. 1, p. 1
2021

2019
RETOUR D'EXPERIENCE SUR LE FONCTIONNEMENT D'UNE CUISINE CENTRALE SUITE A UNE CRISE GRAVE VIA L'APPROCHE MASK (Accepté pour publication).
Gestion des Connaissances, Société et Organisation GECSO 18-19-20-21 juin 2019 Clermont-Ferrand
2019 18

2014
ACTI
Optimisation combinatoire par entropie croisee : application a des problemes de grandes tailles dans les entrepots logistiques
mosim 2014, 10eme conference francophone de modelisation, optimisation et simulation
2014 nov


<== back to directory