Blaysat Benoît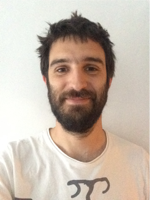 | | |
| --- | --- |
| Fonction : | Permanent (UCA) |
| Location : | SIGMA |
| Team : | ME (M3G) |
| NUC section : | 60 |
| Phone : | +33473288131 |
| e-mail : | This email address is being protected from spambots. You need JavaScript enabled to view it. |
---
Associated publications :
46 publications found
2023
ACL
Geometric modeling with small defects of over-constrained Parallel Kinematic Machine
Mechanism and Machine Theory, vol. 179, p. 105120
2023 jan


Introducing Virtual DIC to Remove Interpolation Bias and Process Optimal Patterns
Experimental Mechanics, vol. 1, p. 1--17
2023 feb 14


2022
Applying the Virtual Fields Method to measure during milling the through-thickness residual stress distribution in aluminum-alloy sheet material
Experimental Mechanics, vol. 1, p. 1--15
2022 oct 08


Direct Residual Stress Identification during Machining
Journal of Manufacturing Processes, vol. 82, p. 678--688
2022 oct


Elasto-Dynamic Modeling of an Over-Constrained Parallel Kinematic Machine Using a Beam Model
Machines, vol. 10, p. 200
2022 mar 10



In-situ measurement of machining part deflection with Digital Image Correlation
Measurement, vol. 187, p. 110301
2022


ACTI
Residual Stress Maps Determination with global Digital Image Correlation
6th CIRP Conference on Surface Integrity
2022 jun 08


2021
ACL
Alternatives to bicubic interpolation considering fpga hardware resource consumption
ieee transactions on very large scale integration (vlsi) systems, vol. 29, p. 247
2021 feb



DIC Challenge 2.0: Developing Images and Guidelines for Evaluating Accuracy and Resolution of 2D Analyses Focus on the Metrological Efficiency Indicator
Experimental Mechanics, vol. 1, p. 1
2021

Geometrical defect identification of a SCARA robot from a vector modeling of kinematic joints invariants
Mechanism and Machine Theory, vol. 162, p. 1--16
2021


In situ tracking of microbeads for the detection of biofilm formation
Biotechnology and Bioengineering, vol. 1, p. 1
2021



On biases in displacement estimation for image registration, with a focus on photomechanics
journal of mathematical imaging and vision, vol. 63, p. 777
2021 may



When deep learning meets digital image correlation
optics and lasers in engineering, vol. 136, p. 106308
2021


2020
Towards criteria characterizing the metrological performance of full-field measurement techniques
experimental mechanics, vol. 60, p. 393--407
2020


Comparing several spectral methods used to extract displacement fields from checkerboard images
optics and lasers in engineering, vol. 127, p. 105984
2020


Concurrent tracking of strain and noise bursts at ferroelastic phase fronts
communications materials, vol. 1, p. 0--0
2020 dec


Influence of the sampling density on the noise level in displacement and strain maps obtained by processing periodic patterns
measurement, vol. 108570, p. 0--0
2020



Multi-partner benchmark experiment of fatigue crack growth measurements
engineering fracture mechanics, vol. 235, p. 0--0
2020 jun



On the Optimal Pattern for Displacement Field Measurement: Random Speckle and DIC, or Checkerboard and LSA?
experimental mechanics, vol. 60, p. 509--534
2020



Temperature Elevation in an Instrumented Phantom Insonated by B-Mode Imaging, Pulse Doppler and Shear Wave Elastography
ultrasound in medicine and biology, vol. 46, p. 3317--3326
2020



Temperature Rise Caused by Shear Wave Elastography, Pulse Doppler and B-Mode in Biological Tissue: An Infrared Thermographic Approach
ultrasound in medicine and biology, vol. 46, p. 325--335
2020 feb



ACTI
Integrated DIC dedicated to residual stress identification in a beam subjected to milling
Photomechanics IDICS Conference
2020 oct 19

2019
ACL
A robust-to-noise deconvolution algorithm to enhance displacement and strain maps obtained with local dic and lsa
experimental mechanics, vol. 59, p. 219--243
2019



Extracting displacement and strain fields from checkerboard images with the localized spectrum analysis
experimental mechanics, vol. 59, p. 207--218
2019



2018
Advanced DIC for accurate part deflection measurement in a machining environment
Journal of Manufacturing Processes, vol. 33, p. 10--23
2018


Investigation of the Tensile Behavior of Recycled Asphalts in the Small-Strain Domain with the Grid Method
Experimental Mechanics, vol. 58, p. 1291--1304
2018


Rendering deformed speckle images with a boolean model
journal of mathematical imaging and vision, vol. 60, p. 634--650
2018


Towards standardized mechanical characterization of microbial biofilms: analysis and critical review
npj Biofilms and Microbiomes, vol. 4, p. 1--15
2018


ACTI
Dedicated Global DIC to study the global behavior of a workpiece during its milling
Photomechanics
2018

Studying with a full-field measurement technique the local response of asphalt specimens subjected to freeze-thaw cycles
Conference Proceedings of the Society for Experimental Mechanics Series
2018


ACTN
Mesure par DIC de la déformation des pièces durant leur usinage
MUGV & Manufacturing 21
2018

COM
Coupling acoustic and full-field measurements to study austenite-martensite avalanches in a shape-memory alloy
International conference on full-field measurement techniques and their applications in experimental solid mechanics, Photomechanics 2018, Toulouse, Mar. 2018
2018

2017
ACL
A critical comparison of some metrological parameters characterizing local digital image correlation and grid method
experimental mechanics, vol. 57, p. 871--903
2017



Methodology for aluminium part machining quality improvement considering mechanical properties and process conditions
cirp journal of manufacturing science and technology, vol. 18, p. 18--38
2017


Towards Computational Photomechanics
ERCIM News, vol. 108, p. 30--31
2017

Towards the local expansion and contraction measurement of asphalt exposed to freeze-thaw cycles
Construction and Building Materials, vol. 154, p. 438--450
2017

ACTI
Dic in machining environment, constraints and benefits
conference proceedings of the society for experimental mechanics series
2017


Robust characterization of the workpiece distortion during its milling thanks to Global DIC
annual conference of the international digital image correlation society
2017 nov 06


2016
ACL
Applying a full-field measurement technique for studying the local deformation in reclaimed asphalt pavements
Construction and Building Materials, vol. 121, p. 547--558
2016

Applying a full-field measurement technique for studying the local deformation in reclaimed asphalt pavements
Construction and Building Materials, vol. 121, p. 547--558
2016

Determining displacement and strain maps immune from aliasing effect with the grid method
optics and lasers in engineering, vol. 86, p. 317--328
2016



Effect of interpolation on noise propagation from images to dic displacement maps
International journal for numerical methods in engineering, vol. 108, p. 213--232
2016



On image gradients in digital image correlation
International Journal for Numerical Methods in Engineering, vol. 105, p. 243--260
2016


On the propagation of camera sensor noise to displacement maps obtained by dic - an experimental study
experimental mechanics, vol. 56, p. 919--944
2016



Removing quasi-periodic noise in strain maps by filtering in the fourier domain
experimental techniques, vol. 40, p. 959--971
2016



The grid method for in-plane displacement and strain measurement: a review and analysis
strain, vol. 52, p. 205--243
2016



<== back to directory